"Ensure healthy lives and promote well-being for all at all ages"
Dilansir dari laman sustainabledevelopment.un.org/sdg3, jargon SDGs nomor 3 yaitu memastikan kehidupan yang sehat dan mendorong kesejahteraan untuk semua di seluruh usia. Poin ini menekankan bahwa kesehatan merupakan aspek penting dalam hidup, makanya dicantumkan secara terang pada SDGs. Target pembahasan pada poin ini begitu banyak, seperti memperbaiki kesehatan jutaan orang, meningkatkan harapan hidup, mengurangi kematian, melawan penyakit menular, serta lainnya.
"Good health is essential to sustainable development and the 2030 Agenda reflects the complexity and interconnectedness of the two. It takes into account widening economic and social inequalities, rapid urbanization, threats to the climate and the environment, the continuing burden of HIV and other infectious diseases, and emerging challenges such as noncommunicable diseases. Universal health coverage will be integral to achieving SDG 3, ending poverty and reducing inequalities. Emerging global health priorities not explicitly included in the SDGs, including antimicrobial resistance, also demand action."
– United Nations Development Programme –
Ancaman terhadap kesehatan menjadi momok yang sangat menakutkan, karena menyentuh nyawa manusia. Banyak fakta yang mengejutkan mengenai kesehatan ini. Aspek yang berkaitan dengan aktivitas fisik ataupun gaya hidup seperti tingginya diabetes dan penyakit jantung. Isu tersebut begitu seksi untuk dikurangi angkanya. Sayangnya ini menjadi masalah internasional, bukan Indonesia saja.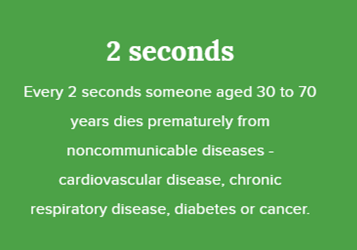 Berangkat dari sebuah "pain", begitu kata Sigmund freud, untuk memikul kesadaran manusia akan pentingnya kesehatan. Bayangkan tiap 2 detik tewas akibat penyakit di atas, yang mana bisa dilakukan upaya preventif. Belum lagi yang menderita obesitas, serangan jantung, dan penyakit degeneratif. Lantas siapa yang patut disalahkan? kesadaran atau kondisi? kesiapan atau penyesalan? Saya tegaskan ini masalah super serius.
Dilansir dari situs WHO International "WHO is responding to the global obesity crisis on many fronts, including monitoring global trends and prevalence, the development of a broad range of guidance addressing the prevention and treatment of overweight and obesity, and providing implementation support and guidance such as the Report of the Commission on Ending Childhood Obesity." Bisa kah kita menyebutnya pandemi global? Atau condong sebagai krisis global? WHO memiliki pekerjaan rumah besar menangani ini, yang mana seharusnya tiap individu bisa menyelesaikannya.

Hal diatas merupakan salah satu perbincangan dunia, dianggap bermasalah. Jika dibeberkan tentang semua penyakit dan kelainan disebabkan oleh gaya hidup maupun kesehatan, mungkin kita mual mendengarnya. Tentu lebih baik menjalani hidup sehat bukan? Sejauh Anda berkapasitas dalam pengetahuan, literasi, fasilitas, dan kemampuan, jalani hidup sebaik-baiknya. Menurut saya sehat bukan lah pilihan, melainkan kebutuhan top primer bahkan prasyarat mengawal kehidupan. Sejahtera fisik, sejahtera mental, sejahtera pikiran, hidup pun sejahtera. Maka sejahtera kan lah kesehatan Anda.
" It is health that is real wealth and not pieces of gold and silver "
– Mahatma Ghandi –
SPORT MUFTIVATION
#IAMENERGETIC